If more than 10 years ago phones seemed to become smaller and easier to carry, at some point, when the touchscreen technology became more easily implemented, the phones started, again, to come in larger and larger sizes (to the point of 6-7-inch phablet size). At the same time, computer hardware became smaller and could be used inside these newly developed devices. And thus, we got the smartphones. But, a new problem has risen and that's about fragility. Sure, it became easier to access our email accounts, to view a video or do a conference call, but these all translated into prolonged use of the handsets and therefore, a greater risk of breaking them.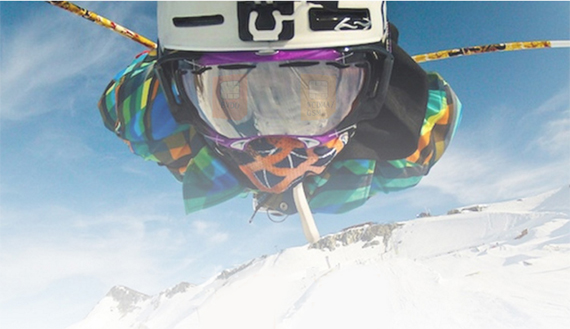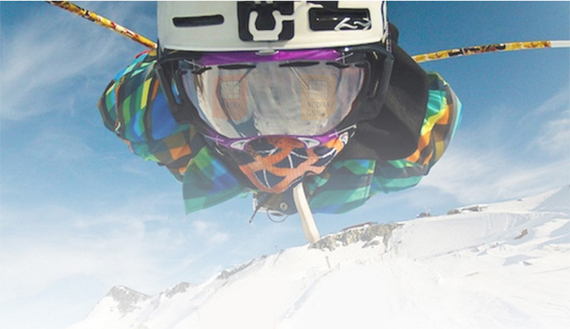 I'm sure most of you had the sad experience of your smartphone falling out of your hand or pocket and a broken screen as a result, especially if you didn't want to cover your beautiful phone in an ugly case. But even so, a lot of iPhones or Samsungs (or any other Android handset) had their screen broken and the case chipped, even if you had a solid case, especially if you're an active person who likes to go biking, climbing or simply, if you work in harsh environments. In those cases you need a rugged smartphone and we're going to have a look at Runbo X6.
Runbo X6, released in 2014, isn't your usual smartphone, it is clearly designed for people who practice extreme outdoor sports (like rock climbing) or for people who work in constructions, being resistant to both dust and shock.
CHECK OUT NEXT: THE BEST RUGGED SMARTPHONES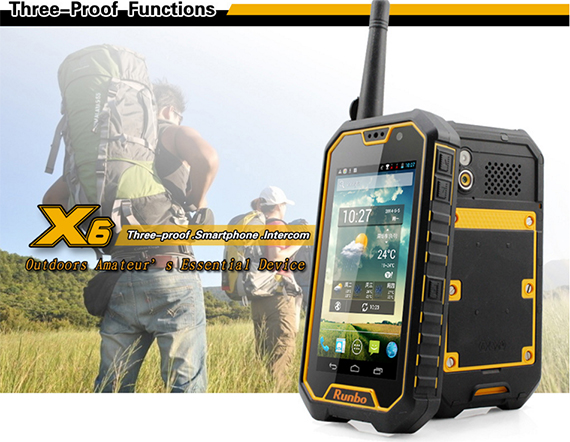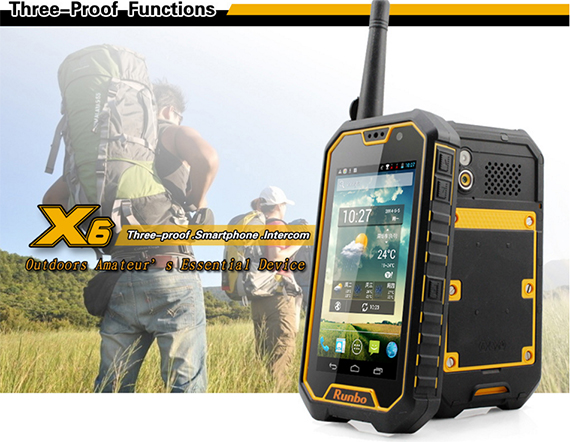 Design
If you expect the levels of elegance you get from the iPhone 6S or Samsung Galaxy S7, you will be disappointed, because Runbo X6 was designed to be practical and functional and there was less focus on eye-candy features. But, this does not mean that the X6 is an ugly phone. It features a rather thick hard-plastic body, having a compact, modular design.
Both the front and the back sides are tightly attached to each other and, on the left and right edges, there are two recessed zone in which two large black rubbery bands help improve the handling of the phone. And the grip is phenomenal, it's almost impossible for this phone to accidentally fall out of your hand, in part because of the aforementioned rubbery band, but also because of an abundance of prominent bumps all around the sides of the handset.
The smartphone measures 6.53×3.38×0.98 inches and weighs 13 oz. Although at first glance it doesn't seem necessarily big, this is a thick and heavy-weight phone. It's a common occurrence within rugged smartphones, first of all because manufacturers need to use high-quality, military-grade materials, which are most often than not, heavy and second of all, it gives you that comfortable feeling when you hold a compact, slightly heavy handset in your hand, it doesn't feel fragile or hollow (like normal handsets do).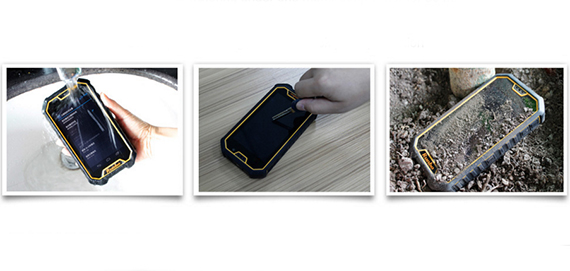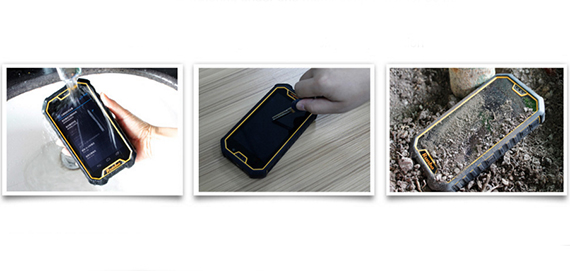 Note: Sonim X6 may not seem suited for day-to-day use, but, in reality, if you use a strong phone case, chances are that your 'normal' smartphone will become a lot more bulkier and it will lose its refined curves, meaning there won't be a clear difference between them.
On the front of the Runbo X6 you will find the slightly large bezels, doubled by yellow lines around the screen (we got the yellow version of the X6) and the continuous black rear of the phone is interrupted by a removable yellow-outlined section, which is tightly screwed (with six screws) for ensuring the waterproof performance. On top of this section there's the rear camera next to the LED flash light and a large media speaker.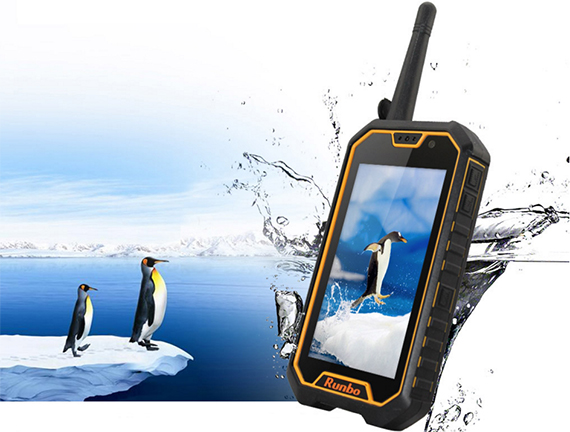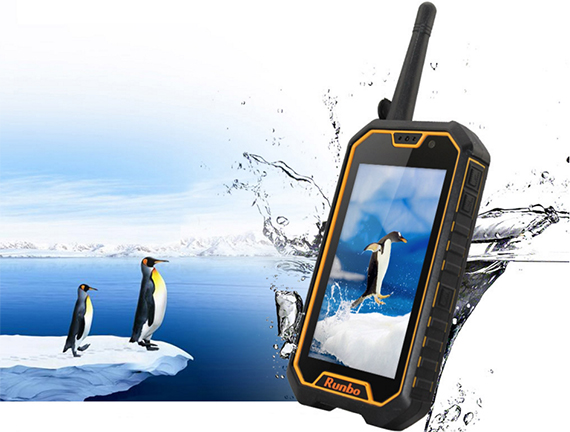 Within the recessed sides of the Runbo X6, there are two sets of buttons. On the right, you can find the volume controller and a camera button (can also be used to respond to calls) and on the left side, there's a set of three buttons responsible for SOS, Extension Key (for Custom OEM) and Walkie Talkie (in order to work, it needs to have the antenna installed).
If you're in danger, by pressing the SOS key, your current location will be sent to the preset phone number (you need to do some configurations beforehand). Also, the X6 offers the functions of recording a message (if you can't type) and, if needed, you can also use the incorporated laser pointer to send a SOS signal (if you are lost or hurt in an isolated place, like a mountain).
The Walkie Talkie function is also a very useful addition, that uses an RF connector to allow you to freely communicate in an area between 3 to 6 miles (the X6 uses Ultra High Frequencies, 400-480 MHz, and a VHF version will be available in the near future).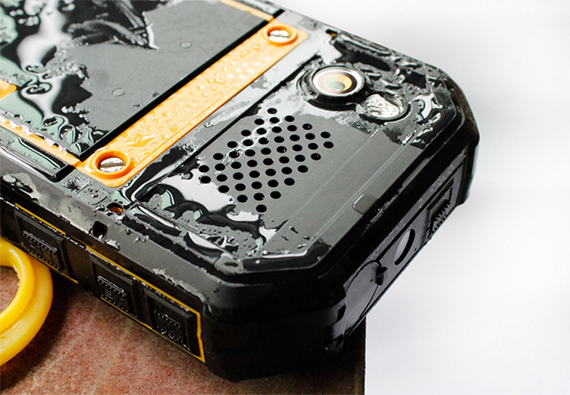 Meanwhile, the top of the X6 is home to the Power button, the aforementioned laser light and a port where you insert the antenna to enable the walkie-talkie function. The bottom of the phone is the place where you'll find a 3.5mm headphone jack and a USB port.
Runbo X6 is dust, shock and water-resistant, IP67-certified, so it will remain intact after you submerge it at a depth between 6 and 40 inches for 30 minutes, it doesn't allow dust particles to enter the case and it will survive a lot of shock punishment before breaking (there is no indestructible phone on the market, yet).
The Runbo X6 is available in four different colours, black with orange, black with green and full black (the usual military colours).
Note: The X6 is dual-SIM (offering support for FDD-LTE and TDD-LTE).
Inside the package, besides the Runbo X6, you will receive the Power adapter, the User Manual, a detachable antenna, a earphone, a USB cable, a screwdriver and the battery.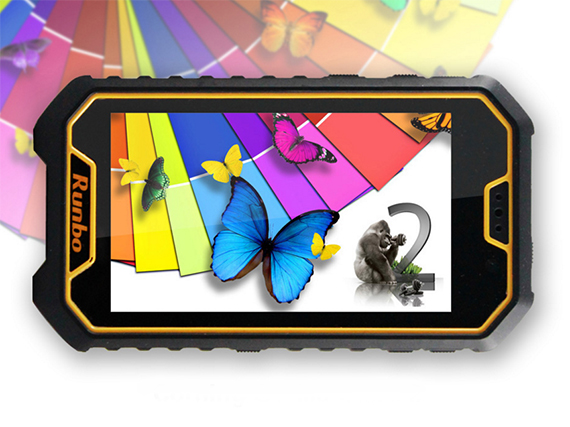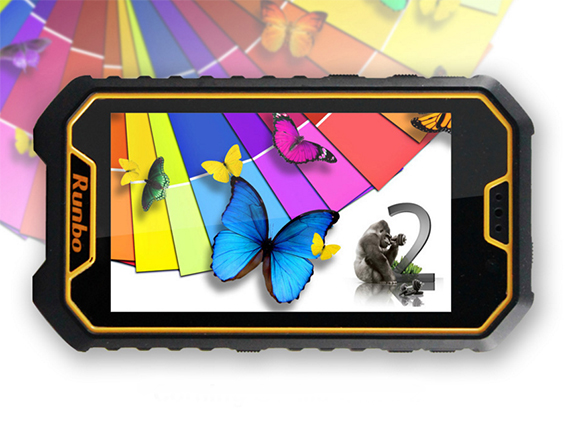 Display
The Runbo X6 features a 5-inch FullHD IPS display, with a resolution of 1920x1080p and a pixel density of 445ppi. The screen is protected by Corning Gorilla Glass 2 and uses the OGS full lamination technology to improve the sensitivity of the touchscreen. The One Glass technology (OGS) reduces significantly the display thickness, so instead of using the classic touch module glass, you get a thinner layer, which translates in a better colour saturation (by 20%) and a better contrast (by 30%).
The high pixel density is a welcomed addition, making the display a lot better, but even if it's a great screen, you shouldn't expect the vivid experience of Samsung's AMOLED display or the natural feeling of iPhones. Even so, we had a great time watching videos and images, the colours looked great (although slightly washed out), the contrast was good, black levels deep enough and overall, it was comparable to the display of mid-range smartphones. As an extra point, we absolutely loved the high responsiveness of the touchscreen (we felt no delay between the time we touched the screen and the required display reaction).
Note: The screen is a bit reflective and you may have a hard time navigating the display when under direct sunlight.
Overall, the display was more than what we expected it to be, simply because the Runbo X6 is more of a professional tool, but, surprisingly it also managed to deliver a great entertainment experience.
Note: Even though the Runbo X6 is advertised to be resistant to drops, you should avoid dropping the handset with the screen downwards on a rough, pointy surfaces.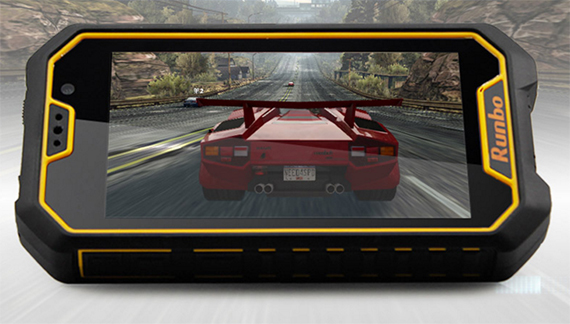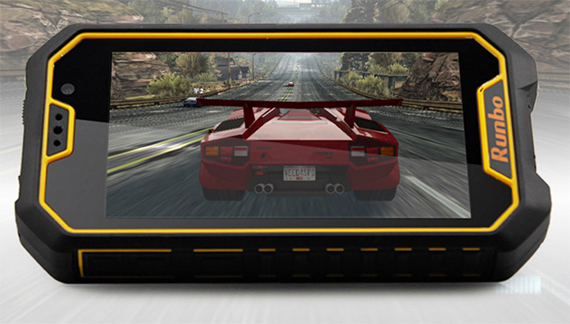 Performance
We've seen that the Runbo X6 is all muscle on the outside, but how does it fare on the inside? Well, you won't be disappointed, because the X6 sports a 1.5GHz quad-core MTK6589T Cortex A7 processor, backed by a PowerVR SGX 544 MP2 GPU, 2GB LPDDR2 of RAM and 32GB EMCP internal storage. If you take a lot of photos and videos while you travel (and you should!), then maybe the native 32GB will not suffice, but don't worry, because you can add another 32GB using the microSD card slot (which you can access by removing the back cover, just remember to screw it back tightly afterwards, as to not impede the waterproofing capabilities).
We were overall pleased by the performance of the CPU, games ran smoothly (even some high-end ones), without stuttering or lags, the 3GB of RAM was a welcomed addition and it helped a lot with handling multiple opened apps.
In terms of connectivity, Runbo X6 is fully compatible with the 2G and 3G networks. You also get compatibility with 802.11 b/g/n (it would have awesome to also be AC compatible), Bluetooth 4.0 and NFC (a very useful way to transfer data between devices and even for credit card payments, ticket verification or transportation cards).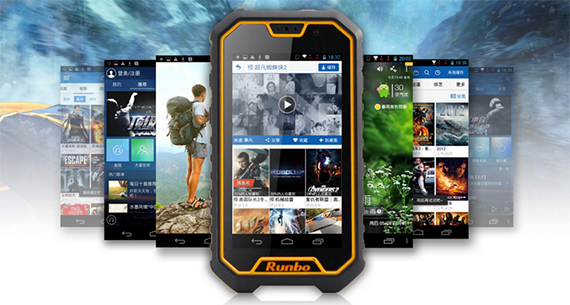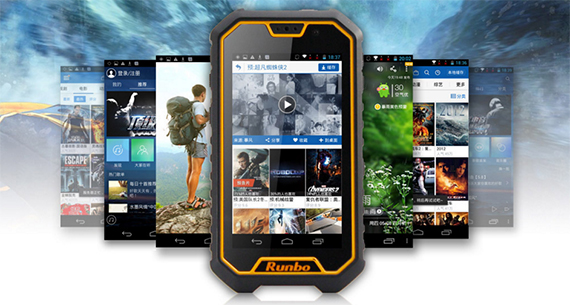 Runbo X6 also features a capable GPS system, which quickly connects to the satellites and can accurately predict your position (with a needed correction of no more than 30 feet). The GPS antenna should be kept facing upwards while using the GPS function in order to not block the signal.
Lastly, the X6 has a thermometer function that shows you the temperature outside. It's not a necessary feature, but a convenient one to have.
Software
By default, Runbo X6 uses a stock version of Android 4.2 Jelly Bean, but it can be upgraded to the better Android 6.0 Marshmallow. You have to download it and flash it on your phone, but don't worry about voiding your warranty because the ROM is official.
While the JellyBean version was a friendly interface, the latest 6.0 Marshmallow will feel light-years ahead, you get multi-tasking, a better notification system, Android Pay, speed improvements, multiple SIM cards support, better design, better animation flow and a lot more that waits for you to be discovered.
Overall, the interface will please any type of user, especially since its the latest from Android and because it lacks any bloatware you would get from custom skins.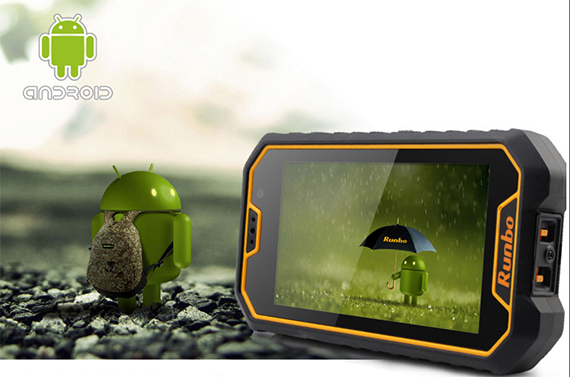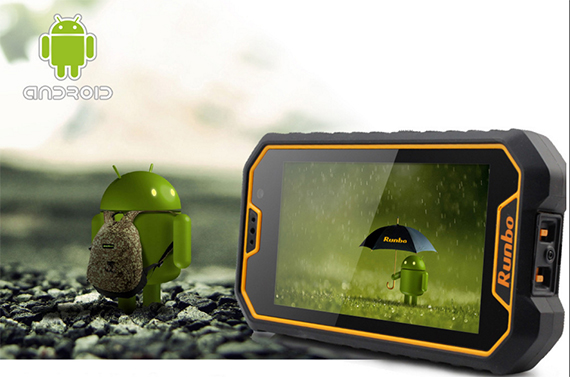 Camera
Runbo X6 has a 13-megapixel rear camera with a CMOS sensor, LED flash, Autofocus, Digital Zoom and Digital image stabilization. On the front, (surprisingly) you also get the same 13-megapixel camera.
Since this is a suitable smartphone for extreme sports, you will want to have a good photo shooter and Runbo delivers a good experience. In good lighting, photos looked clear, with natural looking colours, but it does have the tendency to slightly have an overblown exposure of the snow and clouds.
In dim light and indoors, the cameras also did good, colours were clear, there was enough detail and even if there was a noticeable amount of noise, thanks to the image stabilization, we got some good shots.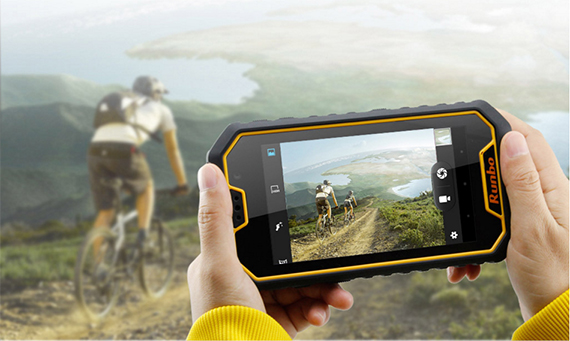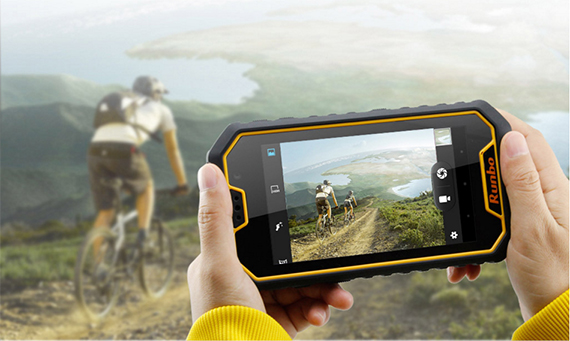 A pleasant surprise was the video quality, being capable to shoot with FullHD resolution and the end result was always pleasing, the Digital image stabilization worked great and videos always looked good.
At the end this was a good camera, suitable for most, but not if you want professional-level shots, in this case we suggest you take along a dedicated DSLR camera.
Battery Life
Runbo X6 features an impressive 4200mAh Lithium-polymer battery, that will get you through many days of use (2-3 days on standby and about 25 hours of talk time). If you plan on going to a longer expedition, it is recommended to bring along a backup battery or a backup phone.
Conclusion
Overall, the Runbo X6 is an impressive smartphone, it offers all the functions you may need from a smartphone if you want to undergo a hiking expedition or something similar, but also it's suited for people who work in constructions or in any other harsh environments, where a normal smartphone wouldn't last more than a few days.